The Bitcoin Photo Contest has come to an end — artists submitted almost 600 photos, collected 7,029 likes, and received 0.75 BTC in tips. The top 50 images have been given to our jury of 6 bitcoin media sites, and the results are in now.
We have a winner
Proud winner of the 2015 bit4coin Bitcoin Photo Contest is an image called "Sweet life. Bitcoin will be in chocolate" by a user named Nadin. Nadin convinced 4 of 6 jury members with carefully crafted, delicious looking bitcoin cookies. Not sure if the jury was especially hungry at the time, but Nadin can look forward to the grand prize of the contest — €1,000 in BTC, delivered via bit4coin vouchers, which can be redeemed immediately for BTC.
Nadin's image of delicious bitcoin cookies. Too sad they are not on sale — but they earned the top prize of €1,000.
A political image made 2nd place
The runner up is a political image titled "Be Free from Financial Slavery" by a user named Oisin Akiboye Conolly. It depicts a graffito in a train underground with the text "$LAV€R¥ — B⃦e free". Quite a nice set up and smart idea by the creator to promote the use of Bitcoin. Oisin further explains in the caption: "This photo captures the frustration of people in regards to fiat currency, and provides the solution: Bitcoin." The jury agreed, giving him 3 out of 6 possible jury votes, and awarding him €500 in bit4coin vouchers.
Has anyone seen this in real life? Post another photo in the comments below!
Four photos tied for 3rd place
3rd place is tied between four images, each with 2 jury votes. We at
bit4coin
thought that instead of splitting the €250 prize among all four, we are going to round it up to €400, so each of the users will receive a prize of €100 in bit4coin vouchers. The images ranked third are:
A beautiful set of 36 Retro Bitcoin Logos: These are even free to use for the bitcoin community!
Solar bitcoin: A beautiful image with a physical image of a "bitcoin" before the sun
Bitcoin planet: To the moon!
Bitcoin billboard: A beautiful image of a city night scene with a bitcoin poster.
Special discretionary award by bit4coin
Finally, we would like to give a special discretionary award to one image: User Alistair from South Africa very early on in the contest submitted the results of a cupcake party, where his kids together with friends created Bitcoin cupcakes. While he could not convince the jury, he amassed 448 likes over the course of 4 weeks — enough for us to create a special discretionary award for him. Same as the split 3rd place, we award him €100 as a bit4coin voucher, so he can sponsor the next party for his kids. And we're sure they all will become bitcoin users soon.
Hand-crafted "we love bitcoin" muffins. We bet they go well together with the winning cookies!
Alistair actually left another photo of the "making of" in the comments: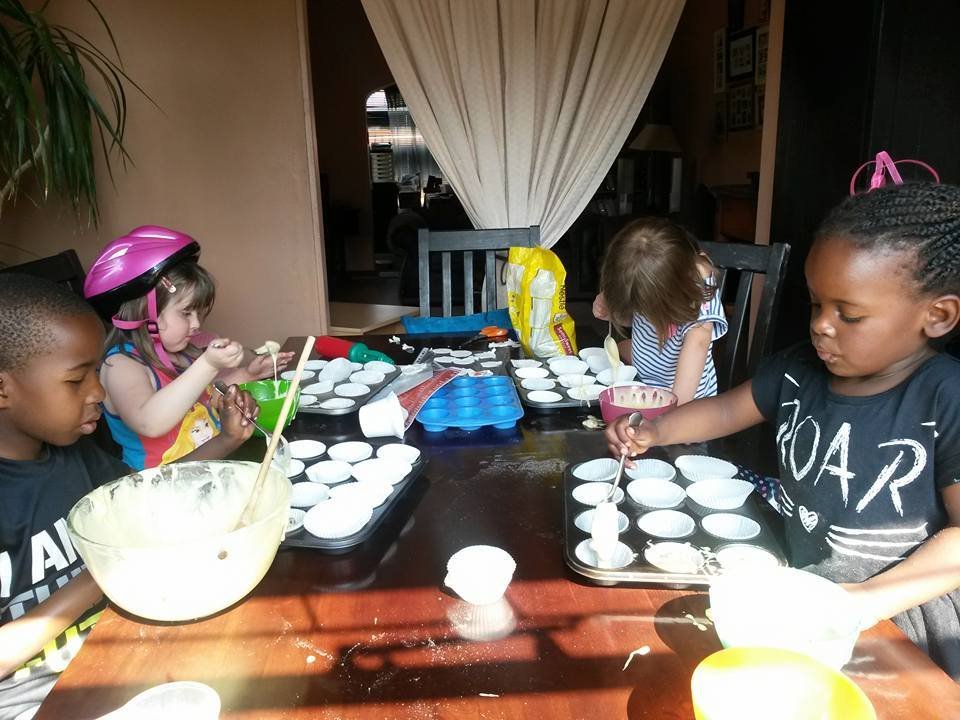 Notification of winners
Congratulations to all winning artists! If your photo is among the winners, we will notify you by email over the course of the day and arrange delivery of prizes. Please only contact us if you have not heard back from us by tomorrow, October 27, via email to
photocontest@bit4coin.net
. Once you have received the prize, we welcome you to post in the comments below.
Bitcoin Tips
So, your favorite image was not part of the winners? You can still donate artists BTC for their work! Just check out the finalist page, or the overall gallery, and navigate to images you like best. There is a button labeled "Donate to artists" for each image, and you can use it to tip the artist some BTC for his or her work. Tipping is available until Thursday, October 29.
We will transfer all BTC tips to the artists this Friday, October 30. To ensure correct transfers, we will contact the artists individually to double check correct payout addresses.
Another contest next year?
We're really happy with the results of the Bitcoin Photo Contest. We'd like to thank anybody who supported it, the artists, the jury members, and anybody who covered it in the media. Last but not least we like to thank you, the users who voted on images and tipped BTC.
And, while nothing has been confirmed yet, we very much could see us running the contest again next year — stay tuned!
Overview of jury votes
In case you wonder how the individual bitcoin sites voted, please find the detailed overview of all votes here (note: table may not render perfectly on mobile). Many images have received at least 1 vote, but unfortunately not everyone could win.
comments powered by